| | | |
| --- | --- | --- |
| ← back | Colonial Meetinghouses Featured in this Project | next → |
&nbsp


Gilmanton, New Hampshire (1774) &nbsp (GPS location N43° 24′ 59″, W71° 21′ 46″)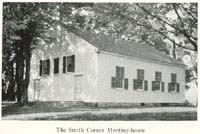 Name of Meetinghouse: &nbsp Smith Meeting House
Street Address of Meetinghouse: &nbsp near 190 Meetinghouse Rd., Gilmanton, NH
Year(s) Built: &nbsp 1774, disassembled and re-used 1836
National Register of Historic Places Designation: &nbsp yes
New Hampshire State Register of Historic Places: &nbsp yes
Organization responsible: &nbsp First Congregational Society of Gilmanton
Organization's address: &nbsp 544 Meetinghouse Road, Gilmanton, NH 03237
Organization's web site: &nbsp none
Town Information: &nbsp Town of Gilmanton, NH
Tax status: &nbsp ?

Contact: &nbsp George B. Roberts, Jr., 544 Meeting House Road, Gilmanton, NH 03237
Telephone: &nbsp 603-224-8982
E-mail: &nbsp none

This page was last updated on: &nbsp May 7, 2009 &nbsp
&nbsp

Acknowledgements: The attached PDF file is from A Brief History of the Smith Meeting House, published by the Gilmanton Historical Society.
&nbsp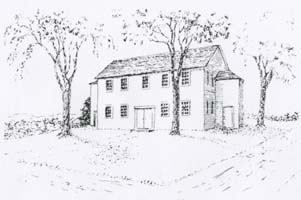 The Smith Meeting House, located near the town of Gilmanton, NH, is in a quiet, out of the way place in central New Hampshire. As with several of the other meetinghouses, the town of Gilmanton is now several miles away from where the town used to be. The meetinghouse was built in 1774, and originally looked like the sketch on the right. In 1836 it was taken down, and the timbers were re-used to construct the present structure. It also has been "modernized" on the inside. For example, there is heat and electricity, and bathrooms in the museum room downstairs, which were very welcome the day I visited. Thank goodness the door was not locked.
A rather complete description of the history of the Smith Meeting House in Gilmanton can be found in this PDF document: A Brief History of the Smith Meeting House.