| | | |
| --- | --- | --- |
| ← back | Colonial Meetinghouses Featured in this Project | next → |
&nbsp


Hampstead, New Hampshire (1745)
(GPS location GPS location N42° 52′ 30″, W71° 10′ 45″)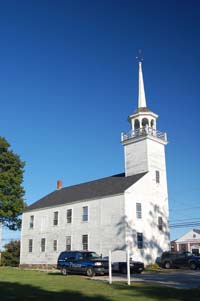 Name of Meetinghouse: &nbsp Old Meeting House Street Address of Meetinghouse: &nbsp Emerson Avenue, just east of Route 121, Hampstead, NH
Year(s) Built: &nbsp 1745
National Register of Historic Places Designation: &nbsp ?
New Hampshire State Register of Historic Places: &nbsp ?
Organization responsible: &nbsp Town of Hampstead
Organization's address: &nbsp 11 Main Street, Hampstead, NH 03841
Organization's web site: &nbsp none
Town Information: &nbsp Town of Hampstead, New Hampshire
Tax status: &nbsp Municipal Government - tax exempt

Contact: &nbsp Town Offices
Telephone: &nbsp (603) 329-4100
E-mail: &nbsp none

This page was last updated on: &nbsp January 20, 2010 &nbsp
&nbsp

Contributions to the history of this structure are welcome.
Please: send e-mail to Paul.
&nbsp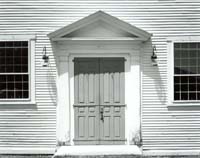 The meetinghouse at Hampstead, New Hampshire now serves as a community center. The interior has been substantially modernized, and a floor has been added at the former balcony level. However, the exterior is kept in its original style, and is well maintained by the town. It is also one of the oldest surviving meetinghouses. It was built in 1745, although the interior was not completed until 1792. The belfry boasts an original Paul Revere bell.