| | | |
| --- | --- | --- |
| ← back | Colonial Meetinghouses Featured in this Project | next → |
&nbsp


Jaffrey, New Hampshire (1775) &nbsp (GPS location N42° 49′ 42″, W72° 3′ 24″)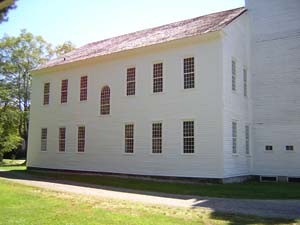 Name of Meetinghouse: &nbsp Jaffrey Meeting House Street Address of Meetinghouse: &nbsp Intersection of Blackberry Lane and Mountain Road (Route 124), Jaffrey, NH
Year(s) Built: &nbsp 1775
National Register of Historic Places Designation: &nbsp ?
New Hampshire State Register of Historic Places: &nbsp ?
Organization responsible: &nbsp Town of Jaffrey, New Hampshire
Organization's address: &nbsp Jaffrey Town Offices, 10 Goodnow Street, Jaffrey, NH 03452
Organization's web site: &nbsp see town's site
Town Information: &nbsp Town of Jaffrey
Tax status: &nbsp Municipal Government - tax exempt

Contact: &nbsp Jaffrey Town Office
Telephone: &nbsp (603) 532-7445
E-mail: &nbsp Jaffrey Town Office

This page was last updated on: &nbsp January 20, 2010 &nbsp
&nbsp

Acknowledgements: The following text has been taken in part from the book Colonial Meeting-Houses of New Hampshire, published by Eva Speare in 1938, which is now in the public domain.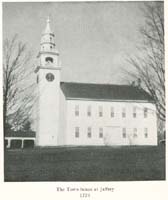 The town of Jaffrey, New Hampshire, boasts one of the most picturesque meetinghouses, at least from the outside. The frame was raised on June 17, 1775, which was also the day of the battle of Bunker Hill. Tradition has it that the sound of the distant cannon fire could be heard by the workers. The building is currently used as a community center, and the interior has been substantially modified to be a small theatre. Thankfully, a second floor was never added.
From the Jaffrey Chamber of Commerce web site:
The Jaffrey Meetinghouse, which stands on the Common in Jaffrey Center, was described by town historian Albert Annett as Jaffrey's "dearest possession." It is unquestionably the town's oldest, most distinguished and best loved building. Its frame was raised on June 17, 1775, the day of the Battle of Bunker Hill. The workers toiling at their task that day could hear the noise of cannon in far away Charlestown. For many years it was used for both religious services and town meetings. In 1822 the tower and bell were added, and in the early 1900s the clock was installed. At one time the Meetinghouse accommodated the town offices and Conant High School. A major restoration in 1922, in time for the Jaffrey's Sesquicentennial, resulted in the present interior layout. Today the building is used for concerts, lectures, fairs, weddings, meetings and the annual 4th of July reading of the Declaration of Independence. The adjacent horse sheds date to 1808 and behind these is situated the Old Burying Ground, a guide to which is attached to the west end of the Horsesheds.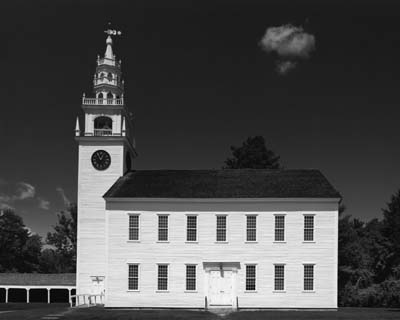 | | |
| --- | --- |
| | |