| | | |
| --- | --- | --- |
| ← back | Colonial Meetinghouses Featured in this Project | next → |
&nbsp


Hingham, Massachusetts (1681) &nbsp (GPS location N42° 14′ 28″, W70° 53′ 11″)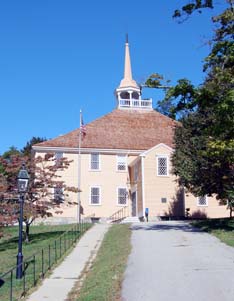 Name of Meetinghouse: &nbsp Old Ship Church Street Address of Meetinghouse: &nbsp 90 Main St., Hingham, MA
Year(s) Built: &nbsp 1681
National Register of Historic Places Designation: &nbsp 1962
Massachusetts State Register of Historic Places: &nbsp Yes - year?
Organization responsible: &nbsp Old Ship Church, First Parish in Hingham
Organization's address: &nbsp 107 Main St., Hingham, MA 02043
Organization's web site: &nbsp Old Ship Church
Additional Ingormation: &nbsp Friends of Old Ship Meeting House
Town Information: &nbsp Town of Hingham
Tax status: &nbsp Religious organization - tax exempt

Contact: &nbsp Julianna Dunn, Parish Administrator
Telephone: &nbsp (781) 749-1679
E-mail: &nbsp office@oldshipchurch.org

This page was last updated on: &nbsp July 27, 2009 &nbsp
&nbsp


The Old Ship in Hingham, Massachusetts, is the oldest of the surviving meetinghouses. It was built in 1681, and the curved roof beams resemble the inside of a ship.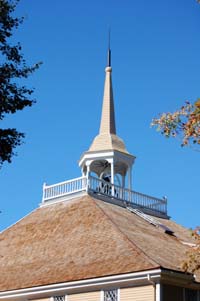 Architecturally, the Old Ship is quite a bit different from the Meetinghouses that were built in the 1700s. Its layout is essentially square, with a hip roof. As with later meetinghouses, the main entrance faces south, and the interior layout consists of a high pulpit on the north wall, and galleries on the other three walls. Box pews occupy both the ground floor and the galleries. When it was originally built, there would probably have been entrances on the east and west walls for women and men, respectively. However, additions to the east and west sides of the building have removed these earlier entrances.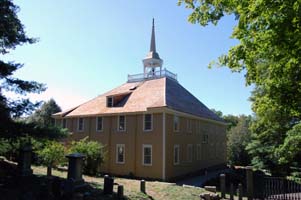 | | |
| --- | --- |
| | |