| | | |
| --- | --- | --- |
| ← back | Colonial Meetinghouses Featured in this Project | next → |
&nbsp


Star Island, New Hampshire (1800) &nbsp (GPS location N 42.976421, W 70.6139 )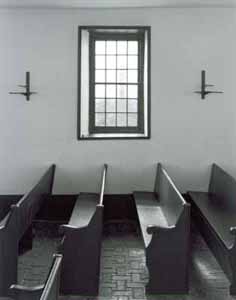 Name of Meetinghouse: &nbsp Gosport Chapel Street Address of Meetinghouse: &nbsp on Star Island, Isles of Shoals, New Hampshire
Year(s) Built: &nbsp 1800
National Register of Historic Places Designation: &nbsp ?
New Hampshire State Register of Historic Places: &nbsp ?
Organization responsible: &nbsp Star Island Corporation
Organization's address: &nbsp Morton-Benedict House, 30 Middle Street, Portsmouth, NH 03801
Organization's web site: &nbsp Star Island
Town Information: &nbsp n/a
Tax status: &nbsp 501(c)(3) - tax exempt

Contact: &nbsp Star Island Office
Telephone: &nbsp (603) 430-6272
E-mail: &nbsp none

This page was last updated on: &nbsp January 19, 2010 &nbsp
&nbsp

Acknowledgements: The following text has been taken in part from the book Colonial Meeting-Houses of New Hampshire, published by Eva Speare in 1938, which is now in the public domain.
&nbsp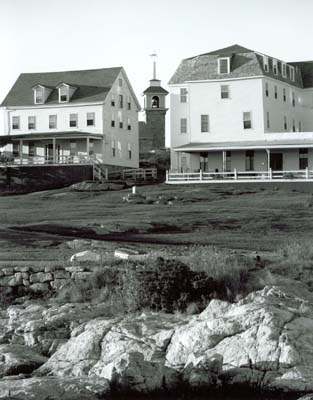 Before the mainland of New Hampshire was settled by white men, the English fishermen used the Isles of Shoals for a summer colony about 1575. Later, a fishing village of 600 inhabitants was formed on Star Island, and was called Gosport.
Several meetinghouses were built, only to be burned by the ungodly fishermen, according to tradition. In 1800, a stone chapel was erected with its interior furnishings made from the timbers of a Spanish shipwreck. The village has disappeared, and, except for the grass-grown cemetery, all traces of the former settlers are lost. Many monuments mark historic sites, memorials to those who once lived on the islands. Above them all, the little stone chapel guards the graves of the forgotten people.
Today, Star Island is home to a large summer retreat center, which is run by the Star Island Corporation.